Now that Bernie Sanders is the presumptive nominee, and clearly the people's choice to head the Democratic ticket in November, the Party Elites and their minions in the media are flailing about in an attempt to find some reason to oppose his nomination and overturn the will of the voters.
The narrative they are pushing, however, is a cynical reversal of their prior positions. It is also precisely wrong, and we have the receipts.
In 2016, the DNC and swing state candidates were BEGGING for Bernie's help.
Indeed, even conservative Jon Tester of Montana was eager to have Bernie help out in getting Democratic Senators elected. And many Senatorial candidates in 2016 were eager to have Bernie come and lend some star-power – especially in those states where Hillary Clinton was not very popular.
Sanders' political operation and aides at the Democratic Senatorial Campaign Committee "talk all the time," Tester said. The Vermont senator's fundraising prowess, particularly in garnering small-dollar donations, will be a top strength for Senate candidates, party officials said. Democrats need to flip at least four Republican-held seats to reclaim the Senate majority in November.
One of those swing states was Nevada, where Bernie campaigned with Catherine Cortez Masto and helped her to become elected as the first Latina Senator in the country.
Alas, in 2016 Bernie was not always able to help pull the candidates across the line. But therein also lies a tale relative to 2020:
In Pennsylvania, the 2016 Senatorial candidate, Katie McGinty, was eager to have Bernie campaign with her. Bernie happily obliged, campaigning all over the State. But not even Bernie's help could overcome the tremendous money advantage of the GOP incumbent, Pat Toomey. This was because Toomey had received $12 million in donations from none other than Michael Bloomberg. That tsunami of Bloomberg cash allowed Toomey to barely squeak by, winning by less than 2 points.
How ironic, then, that Sanders and Bloomberg now face each other directly. Even more ironic, it is in a Democratic Primary and not a general election.
Bernie Barnstormed for Democrats in 2018
Bernie Breaks New Ground in Purple States
In 2018 Bernie was able to achieve historic, progressive wins in the "still purple" state of Colorado. As Newsweek proclaimed:
Sanders…helped make history in Colorado where Democrat Joe Neguse pulled out more than 60 percent of the vote to become the first African American elected to the House by The Centennial State. Neguse, 34, will also be one of the youngest members of Congress when he takes office next year.
Bernie also helped Jared Polis become Governor of Colorado, the first openly gay Governor to be elected in the US.
Bernie Helps Flip Seats
Bernie helped Jacky Rosen become Senator for Nevada, unseating incumbent Republican Dean Heller in a tight race that Sanders was able to sway in the final days.
He did this, even though Rosen opposes Bernie's signature plan, Medicare For All.
Bernie helped Mike Levin win Darrell Issa's seat in California's Republican-leaning 49th District, which had not elected a Democrat since 2000.
Bernie Helps Moderates as Well
When Trump won Wisconsin, the GOP and the Koch Brothers put everything they had into defeating the Democratic Senate candidate, Tammy Baldwin.
Nonetheless, Tammy invited Bernie Sanders to come campaign with her, to highlight Medicare For All and other parts of their shared agenda.
WPR reported that even in conservative Eau Claire, WI, "The crowd was electrified when Sanders, a U.S. senator from Vermont, was introduced to the podium" – this was in defiance of the "traditional wisdom" being put out at the time:
Baldwin is known as a moderate Democrat, which makes her appearance with Sanders, a self-identified as a Democratic socialist, notable. In a statement released prior to the rally, the Republican Party of Wisconsin said she is relying on her far-left allies to prop up her campaign in a time Wisconsin is favoring Republicans.
Thanks to Bernie's help, Tammy Baldwin went on to win despite having a record breaking $3 million in negative ads launched against her.
Bernie even stumped for Gretchen Whitmer, who was not a pro-Bernie candidate. Despite having backed her opponent in the Primary, Bernie held huge rallies for Gretchen and helped her reclaim the Michigan Governor's mansion after 8 years of GOP control under Rick Snyder.
This fact alone contradicts the ridiculous assertion by Mayor Pete and others that Bernie is an "extremist" who demands that all Democrats conform to his brand of progressivism.
Pete Buttigieg likes to describe Bernie's politics as "my way or the highway" but the FACTS tell a different story. Wherever Bernie could be of help he has happily jumped in to support ANY Democrat in a general election, even those who had defeated his preferred candidate in the Primary.
And in many, many cases, Bernie has helped those candidates to WIN.

Quick Response
Some say Bernie will hurt down-ballot candidates, but the truth is:
Bernie is revered and appreciated by the DSCC for his ability to turn out voters and to help raise small dollar donations.
The DNC, DSCC and DCCC all BEGGED Bernie to campaign all over the country in battleground states to help Democrats in both 2016 and 2018.
Bernie's participation drove turnout and helped those candidates WIN in many instances.
Bernie stumped successfully even for those Democratic candidates whom he had not endorsed in the Primary.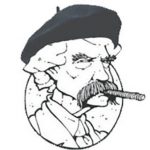 EuroYankee is a dual citizen, US-EU. He travels around Europe, writing on politics, culture and such. He pays his US taxes so he gets to weigh in on what is happening in the States.