I love Bernie Sanders. I maxed out my donations to his campaign ($2500) and have now added my name to the list of complainants in the class action suit against the DNC to get my money back after he was robbed of the nomination. I was banned for life from the Daily Kos for writing articles that were deemed to be too pro-Bernie and anti-Hillary. I was a true believer, I was #BernieOrBust all the way – right up until the Convention, when the DNC made it clear that they preferred "bust."
Now I am voting #JillNotHill and supporting Dr. Jill Stein and the Green Party with my money, my time and my enthusiasm.
Here's why: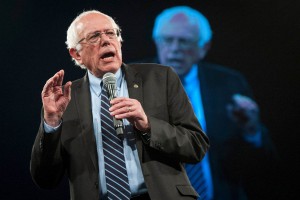 While I will always be thankful to Bernie for having inspired me, and millions like me, to question the Establishment and to fight against the corruption that dominates our national political system, I have come to the realisation that Bernie is simply not the man to lead us into a true Revolution.
The reason is simple, actually: Bernie believes in the 2-party system; he does NOT believe in third parties nor does he believe in the possibility to have a Revolution that takes place outside of the political duopoly that currently has a stranglehold over our body politic. This is a shame, given that it was Bernie who always told us to "think big" and to "think outside the box."
It was a sad day when I realised that what Bernie actually believed was that we should think outside the box, but we should mobilize inside the box. The "box" in this case being the Democratic Party and our current 2-party political system.
That simply doesn't make sense to me.
Much has been made by both supporters and opponents of Bernie Sanders that he is an independent, and Bernie himself proudly asserts that he is the "longest serving independent" in Congress. That fact, however, belies the reality that Bernie has caucused with the Democrats for over 30 years. That he has raised money for the DCCC and the DSCC. That he has supported and voted for the Democratic Leadership in both the House and the Senate, and he has voted with the Democrats 98% of the time. Indeed, one criticism often levelled at Berners by Clinton supporters was the fact that Bernie and Hillary had virtually matching voting records while they served in the Senate together. Yes, they both supported the "Democratic Agenda."
I have come to realise that Bernie is not the maverick that we might wish him to be. He is, in the end, a Company man, a Party Man. Harry Reid is notorious for running a tight ship in the Senate. He does not give you a plum Committee assignment unless he knows you will toe the Party line, and he certainly does not make you the Chair of a high profile committee like the Veterans Affairs Committee (as he did with Bernie in 2013) unless he knows you are a loyal partisan for the Democrats.
Bernie believes that the Democratic Party can be turned around. That we can reverse the decades of DLC-driven corporatism and remake the Democrats into the Party of FDR. This is simply not possible. The "pay-to-play" corruption that the Clintons and their New Democrat allies introduced in the 90's has, over the past 30 years, completely taken over the Democratic Party. We are now on the 3rd or 4th generation of Democrats who literally grew up thinking that it was OK to take corporate money and to do the bidding of your donors as long as you stood on the righteous side when it came to civil rights, women's rights, gay rights and other social issues. These Democrats actually believe that they are doing good work by supporting LGBTQ causes and defending abortion rights even as they support Wall Street criminality, fracking, for-profit healthcare, TPP and other noxious issues pushed by their corporate donors.
Mind you, these are not all bad people. They are simply playing the hand they have been dealt, in a game that they did not create. They are making their way within an organisation that is so systemically corrupt that they do not even perceive the corruption for what it is. Cenk Uygur once described this phenomenon with an old joke: if you ask a fish "how's the water?" he will answer "what water?" So it is with Democrats and the ocean of corruption in which they live.
You cannot ask today's Democrats to change both themselves and the system in which they have thrived. They like the game as it is, because they are winning at it. And even if they wanted to change, their Corporate masters would never let them do so. The DNC is rotten to the core, and their actions during the 2016 Primaries show them to be a corrupt, well-organised and almost criminal enterprise willing to engage in illegitimate if not illegal activities to achieve the results that they and their Donors want. There is no way to rehabilitate this organisation, and there is no way that the DNC will countenance a "revolution" within their ranks.
BERNIE, I love you, and as I said at the top I will always revere you for what you did to start this Revolution. But you cannot lead the Revolution. The Democratic Party has been your adopted "home" on Capitol Hill since Bill Clinton first entered the White House in 1992. We cannot expect you to abandon the organisation that you have supported for 25 years. But neither can we hope to build our Revolution within the sclerotic ranks of the DNC. As Seattle City Councilmember Kshama Sawant has rightly said, any progressive movements "will reach a graveyard in the Democratic Party."
That is why we must part company. You will push for Clinton to win the election, because you genuinely believe that once she is in the White House, she will bend toward the progressive causes that she has so studiously avoided all her career. You believe that she will be forced to listen to the Progressive wing of the Party, rather than the centrists and moderate Republicans she is currently courting for votes. You believe that we do not have the "luxury" of voting for a third party.
Sorry, Bernie. I do not believe those things that you believe about Clinton, nor do I believe that voting for my candidate of choice is a "luxury." Indeed, in a representative democracy, I believe that voting for one's chosen candidate is a duty.
Bernie, your personal political hero is Eugene V. Debs, the American Socialist who maintained that it is better to vote for what you want and not get it, than to vote for what you don't want and get that.
I plan to vote for what I want. I will vote for Jill Stein and the Green Party.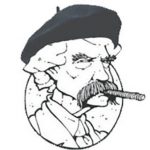 EuroYankee is a dual citizen, US-EU. He travels around Europe, writing on politics, culture and such. He pays his US taxes so he gets to weigh in on what is happening in the States.