There has been an awful lot of vitriol and haranguing among the ragged ranks of the Left lately. Purity versus fealty is now turning into a sort of 30 Years War among Democrats, supporters of Bernie Sanders battling it out with those of Hillary Clinton.
The latest battle is raging around the so-called "Bernie or Bust" movement that has taken hold among a very dedicated cohort of Sanders supporters. The adherents of this movement swear that if Hillary becomes the Democratic nominee, they will "write in" Bernie's name for President.
First, Don't Freak Out
Hillary supporters are losing their sh$t and screaming that these Berners are not "real Democrats", and that they are acting from a vile position of "privilege" in which they somehow will not suffer personally from the extreme depredations that will be visited upon the American people should Donald Trump win the White House. Others maintain that a Trump Presidency will make the
geopolitical disaster that was the George W. Bush Presidency look like a picnic compared to the Apocalypse that will surely follow if Trump is sitting in the Oval Office.
Please can we step back and look at this thing logically and intelligently?
1) YES, the Bernie-or-Bust people are probably not normal Democrats, and
2) YES, they probably would not even vote if Bernie were not running, and
3) YES, that makes them immune to exhortations by Democrats to vote for Hillary and "toe the party line" if Bernie loses.
BUT — these three attributes actually explain WHY we should all be working on trying to bring these people into the Democratic fold, not alienate or exclude them through savage attacks and haughty condemnations. Indeed, even dismissive snark should be ruled out in this case as it will only serve to further frustrate and irritate people who are already massively pissed off and feeling hard done by the Democratic "Establishment."
What Bernie Has Wrought

It is no secret that voter turnout in the USA is abysmal, and that young people as well as blue collar middle class Americans have given up on the political process. Even the most rabid of Hillary surrogates are quick to acknowledge the fact that the Bernie Sanders campaign is hitting a nerve with these groups, and literally bringing masses of them into the political process in a way we have not seen since 2008 or even earlier.
Indeed, Democrats have been presented with an amazing gift this election season: namely, the opportunity to increase the ranks of the Party and become a truly overwhelming Majority that can dominate US politics and policy for decades to come.
WHY, then, would any true-blue Democrat wish to drive these people AWAY from the Party and back into the shadows of apathy and cynicism?
WHY would anyone put a cult of personality – whether it be for Clinton or against Trump – ahead of the greater good that can be easily realized in victorious Congressional, Senatorial and Statehouse races that could result when such "new Democrats" go to the polls in November?
Those who are dumping on the Bernie or Busters have allowed themselves to become obsessed either with a love of Hillary Clinton or a fear of Donald Trump – or both.
Likewise, the Bernie or Busters have become so focused on the Man himself that they cannot think about anything but the office to which he aspires, the winning or losing of which will have an irreversible and Manichean impact on the rest of their lives.
And this actually points up the single major problem behind this whole mess: the complete and utter disregard for the Legislative Branch. Somehow both sides of this debate refuse to realize that the President cannot act unilaterally by fiat or decree. My God, how is it that so many people who have bemoaned the utter inability of Obama to get anything done during his second term somehow ascribe dictatorial powers to the next President, whoever that may be??
Hillary supporters are quick to warn that "the Supreme Court is on the line" in this election. Indeed it is. But the SCOTUS will not be repopulated solely according to the wishes of the President. If that were the case, then we would already be looking forward to the seating of Merrick Garland. Indeed, the nominee would probably not even be Merrick Garland but rather a more liberal appointee who did not have to weather the storm of a Republican Senate approval process.
The Senate is in many ways just as important as the Presidency in this election, at least where the matters of domestic policy are concerned. Indeed, I am sure that virtually all of the Democratic Party faithful who are wringing their hands over the prospect of a Trump Presidency have also spent the past 6 years bemoaning the fact that the Republicans in Congress have prevented Obama from doing all the myriad wonderful and progressive things that he had promised. Republican "obstructionism" has been the bête noir of the Democratic Party for many years, and yet – AND YET – being craven Democrats, they cannot possibly imagine fighting back in kind against the GOP.
This Election is about MORE than the Presidency
The Senate must be recaptured. And the Bernie or Bust voters can be a BIG HELP in doing that. When engaging in an anti-Clinton Sandernistas, avoid the Presidential race. Query them about other Democratic races. Surely they do not plan to "write in" Bernie's name for every office down ballot. Depending on where they are from, you might ask:
"Will you help us defeat [INSERT SENATOR HERE] in November? Whoever is ion the White House, whether it is Bernie or Hillary, they will need to have a Democratic Senate, and your vote for [GOP SENATOR]'s Democratic opponent will help us give our new Democratic President a partner in the legislature, and if a Republican wins, a Democratic Senate will keep them from doing irreparable harm to our country and the Supreme Court."
Here is a list of Senators you can use in that argument, BTW:
• Kelly Ayotte (New Hampshire)
• Roy Blunt (Missouri)
• John Boozman (Arkansas)
• Richard Burr (North Carolina)
• Dan Coats (Indiana) retiring in 2016
• Mike Crapo (Idaho)
• Chuck Grassley (Iowa)
• John Hoeven (North Dakota)
• Johnny Isakson (Georgia)
• Ron Johnson (Wisconsin)
• Mark Kirk (Illinois)
• James Lankford (Oklahoma)
• Mike Lee (Utah)
• John McCain (Arizona)
• Jerry Moran (Kansas)
• Lisa Murkowski (Alaska)
• Rand Paul (Kentucky)
• Rob Portman (Ohio)
• Marco Rubio (Florida) retiring in 2016
• Tim Scott (South Carolina)
• Richard Shelby (Alabama)
• John Thune (South Dakota)
• Pat Toomey (Pennsylvania)
• David Vitter (Louisiana)
Keep your eyes on the prize, Democrats.
Do not make your dogmatic doom-saying turn into a self-fulfilling prophecy by alienating and rejecting the very group of people who could help turn Congress blue again and make the Democratic Party a true and virtually perpetual majority in American politics.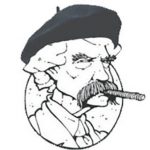 EuroYankee is a dual citizen, US-EU. He travels around Europe, writing on politics, culture and such. He pays his US taxes so he gets to weigh in on what is happening in the States.