One of the first things that one notices in Barcelona is the public cleaning and care-taking of the city. Throughout the city, throughout the day and night, an army of cleaners, clad in green and yellow hi-visibility uniforms, patrol the streets, sidewalks, parks and other public spaces, sweeping and washing their way through the barrios. Electric trucks roll down the narrow calles, accompanied by personnel collecting curbside garbage and emptying the sidewalk waste cans (which are ubiquitous – you are never more than 30 metres from a nice trash can with a cigarette stub-out plate attached to it). Here there is no such thing as "trash day" – you can put out your trash any time, any day, and it will be picked up in a timely fashion that same day/night.
Barcelona is an extremely dog-friendly city, one sees all breeds and in all sizes, accompanied by their masters, loping contentedly, stopping to greet other dogs. There is rarely an altercation – all the dogs seem exceedingly friendly and well-mannered (much like the Barcelonians themselves). Dog-poop is, by and large, immediately picked up by the owners, and in the case of those anti-social exceptions, the caca is picked up or hosed away by the aforementioned army of street cleaners.
The parks in Barcelona are also beautiful, and beautifully maintained. On my early morning walks I always see squads of landscapers and gardeners snipping, raking, pruning and watering. Parc Ciutadella, in the Ciutat Vell (Old City) is especially enjoyable not just for the lawns and diverse flora, but also for the gardens, the statues, and the immense Cascadas fountain.
All-in-all, Barcelona is a majestic and wealthy city, and with its broad boulevards and cafe culture, it resembles Paris for sheer beauty. But it is a Paris with better weather, more palm trees, beautiful beaches, affordable rents and much fewer Parisians. And Barcelona is thriving: Everywhere new businesses are opening, the stores and restaurants are full, and the public services exemplary (beating all other European cities I have seen). When you are in Barcelona it is hard to believe that Spain is supposed to be on the verge of economic collapse.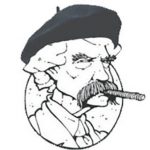 EuroYankee is a dual citizen, US-EU. He travels around Europe, writing on politics, culture and such. He pays his US taxes so he gets to weigh in on what is happening in the States.