This smear is another one that I would have thought would disappear given all the blatant facts in evidence to the contrary. But no – there are still some people out there claiming that Bernie is popular only because no one has really challenged him, no one has investigated him, no one has really attacked him.
UPDATED: February 3, 2020
Crazy, right? I mean, if that were the case then I would not be writing my 23rd article to defend him.
Indeed, anyone who thinks that Bernie has somehow been given a free pass simply needs to read my posts below:
The Smears Against Bernie Must Be Stopped – Here's How to Do It
The #NeverBernie Media Narrative Must Be Stopped – Here's How to Do It
But there is an abundance of other proof available.
Homegrown Attacks – 30 Years of "Vetting" by Both Parties
Vermont wasn't always the "blue" liberal state that it is considered to be today. Indeed, throughout most of US history Vermont was a very staid, conservative rural State that had much more in common with Wyoming than with Massachusetts. Even today, there are still large swathes of Vermont that vote reliably Republican, as Nate Silver's FiveThirtyEight explains.
As a matter of fact, Bernie's position as the most popular US Senator among his constituents is even more important and more impressive when you consider that in order to achieve a 65% approval rate he has had to win over 25% of the State's conservative Republicans.
Let's also not forget that Bernie won his House seat in 1990 by defeating BOTH the Democratic challenger and the Republican incumbent. He had BOTH party machines working against him, and they attacked him with everything they had. Especially the GOP – because Vermont's one House seat had been in Republican hands for 138 of the previous 140 years.
And in 2006, when Bernie won the Senate he again beat a powerful incumbent and flipped that seat from 144 years of GOP control.
To think that the GOP in Vermont has not done EVERYTHING POSSIBLE, over the past 30 years, to "vet" Bernie Sanders is simply ridiculous.
Indeed, Brady Toensing, the head of the Vermont GOP and Trump's Campaign Chair in 2016, made it his personal goal in life to destroy Bernie Sanders by whatever means possible, even to the point of smearing Bernie and his wife Jane together:
Brady Toensing, a Republican apparatchik in Vermont who chaired Trump's campaign in the state and has never liked Bernie Sanders, managed to get federal investigators involved, and soon introduced allegations (with absolutely no supporting evidence) that Bernie Sanders used his position as Senator to exert pressure on certain banks to approve the loans for the land deal. Toensing is famous for launching attacks on Democrats in the state, including the former Governor—he even tried to nail Bernie Sanders on a bogus campaign finance charge in 2016 …
I actually had to write a whole debunking of the Jane Sanders "land deal" smear:
Anti-Bernie Smear #15: "Bernie and Jane are Corrupt – Look at the Burlington College Deal"
So please – I know the Establishment and the Media like to downplay Bernie's 30 years of achievements in Vermont, but let's all remember that those achievements were, in large part, accomplished in a VERY CONSERVATIVE environment.
Campaign 2016 – Bernie attacked early and often – By Democrats
Funnily enough, this attack claiming that Bernie has not been given enough "scrutiny" is already very old and tired.
From POLITICO, June 25, 2015:
Claire McCaskill unloads on Bernie Sanders
"I think that the media is giving Bernie a pass right now," McCaskill said in an interview on MSNBC's "Morning Joe." "I very rarely read in any coverage of Bernie that he's a socialist. I think everybody wants a fight and I think they are not really giving the same scrutiny to Bernie Sanders that they're giving to, certainly, Hillary Clinton and the other candidates."
From Huffington Post, September 14, 2015:
A Pro-Clinton Super PAC Is Going Negative On Bernie Sanders
The Super PAC, called "Correct the Record" spent over $1 million attacking and smearing Sanders and his supporters during the Primaries through social media and mass emails.
From Salon, September 15, 2015:
Let the anti-Bernie Sanders red-baiting begin: Hillary Clinton's super PAC wants you to know that he's a socialist
From FAIR, March 8, 2016:
Washington Post Ran 16 Negative Stories on Bernie Sanders in 16 Hours
From Shadowproof.com, March 2016:
Clinton Campaign Boosted By More Rumors And Dishonest Attacks Against Sanders
Campaign 2020 – Here we go again …
Vermont Democrats still love to go after Bernie:
From May 29, 2019 (Diane Ravitch):
The "New York Times" vs. Senator Bernie Sanders
Ravitch points out that the columnist who has been assigned to cover the Sanders campaign, Sydney Ember, is guilty of being consistently negative and biased in her coverage. This is not surprising given that Ms. Ember is a millionaire and a corporate elitist, as explained by Katie Halper:
Meet Sydney Ember, the New York Times' Senior Anti-Bernie Correspondent
Ember came to the New York Times with a resumé limited to the finance industry: She was an analyst for BlackRock, the biggest global investment management corporation, and the largest investor in coal plant developers in the world. (Her husband, Mike Bechek, is also in the investment business; he was a senior associate consultant at Bain Capital, where his father was CEO.)
From POLITICO, July 15, 2019:
Sanders campaign: Media 'find Bernie annoying, discount his seriousness'
From In These Times, November 13, 2019:
MSNBC Is the Most Influential Network Among Liberals—And It's Ignoring Bernie Sanders
Sanders…received less coverage on MSNBC than Biden or Warren. Of the three candidates, Sanders was least likely to be mentioned positively (12.9% of his mentions) and most likely to be mentioned negatively (20.7%).
So when it comes to "vetting", Bernie has 30 years of being vetted by both Democrats and Republicans, as well as the Mainstream Media. To claim otherwise is to engage in the most egregious gaslighting.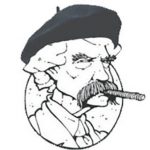 EuroYankee is a dual citizen, US-EU. He travels around Europe, writing on politics, culture and such. He pays his US taxes so he gets to weigh in on what is happening in the States.